March 19th, 2012
October Baby Youth and Young Adult Showings
Catholic Pro-Life Committee E-Alert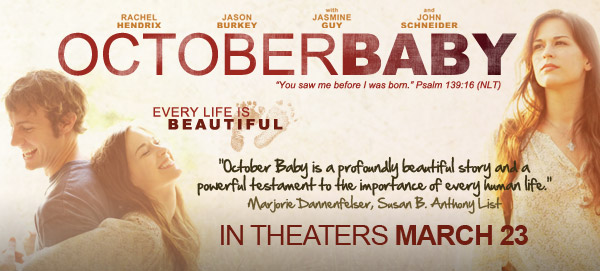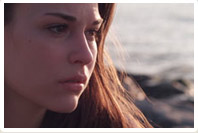 October Baby: Bringing Life
to Theaters March 23

If you believe that every life is beautiful and that a beautifully told story can touch hearts – and even save lives – then you will be excited about the impact that OCTOBER BABY can have when it opens in theaters on March 23.

OCTOBER BABY tells the story of Hannah, a young woman who learns that her life is much different than what she's known up until now.  After learning she was actually adopted – after a failed abortion attempt – Hannah embarks on an incredible journey to discover her hidden past and find hope for her unknown future.  Watch trailer here.
Are you in high school or a young adult?  Then join us for:
YFL Movie and Lunch (age 14+), March 24: 10:30 a.m. – 2:30 p.m. at AMC Stonebrier and Buca di Beppo in Frisco, $20 per person includes movie and meal (more info), RSVP: jsmith@prolifedallas.org, sponsored by Youth For Life
Young Adult Afternoon at the Movies, March 25:  Lunch at 12:30 p.m. at The Whiskey Cake, Plano, and 1:55 p.m. movie at Cinemark West Plano (more info), RSVP: voices@prolifedallas.org, sponsored by Voices 4Life 
Not in high school or can't make these events, then grab a friend and enjoy anytime next weekend! Click here to buy your individual tickets.
Can a movie make a difference? Charmaine Yoest, President and CEO of Americans United for Life, says:
"What a remarkable movie. This is a significant story, beautifully told. OCTOBER BABYweaves together an uplifting and inspiring look at redemption and the true meaning of love. It's even funny too. It's really a wonderful movie."
The producers of OCTOBER BABY have assigned 10% of the profits of the movie to the Every Life is Beautiful Fund, which will distribute funds to frontline organizations helping women facing crisis pregnancies, life-affirming adoption agencies, and those caring for orphans.
*October Baby star John Schneider and film director Jon Erwin will be appearing in Dallas on April 14 at the annual pro-life dinner hosted by Bishop Kevin Farrell.  For more information and to purchase tickets to this spectacular event, visit prolifedallas.org/dinner.*